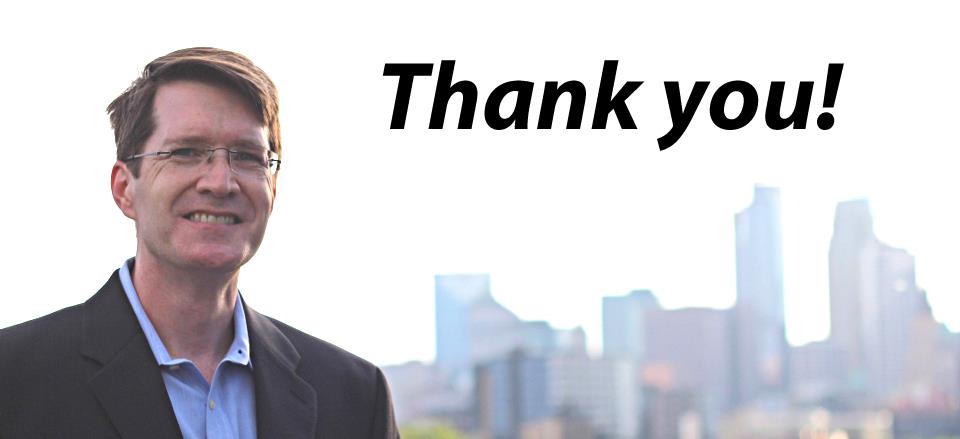 I'm Brian Hagerty, and I ran for Hennepin County District Judge in 2014. I got 8,723 votes in the primary on August 12th, and I'm grateful for every vote. Unfortunately, I only placed third in the primary, so I won't be on the ballot for the general election in November.
I invite you to a post-primary picnic for my friends and supporters. If you're on Facebook, please join my Facebook event so I know who's coming. If you're not on Facebook, just show up:
Despite the disappointing election results, we have a lot to be proud of. This has been an amazing couple of months. I am truly grateful for, and humbled by, all of the support and good wishes I received throughout my campaign from old friends and new.
Congratulations to Paul Scoggin and Bridget Sullivan, who will be on the ballot for the general election on Tuesday, November 4, 2014 (add to calendar or add on Facebook).
Contribute
Though my campaign is over, your campaign contributions are still welcome. My wife and I funded well over half of the campaign costs ourselves, and though we don't regret having done so, we would certainly appreciate your support.
Learn more
If you want to know who supported me, check out my list of supporters (a list that includes, among many others, Minneapolis Mayor Betsy Hodges; Minneapolis City Council Members Blong Yang, Andrew Johnson, and Jacob Frey; State Senators Ann Rest and Chris Eaton; State Representatives Susan Allen, John Benson, Karen Clark, and Raymond Dehn; and retired Associate Supreme Court Justice Esther Tomljanovich).
If you want to know why I would be a great judge, start with my brief biography. Then meet my family. Then read about my career in detail.
If you want to learn more about me and our judicial system, watch my short campaign videos on YouTube:
Contact me
You can reach me by email at brian@brianhagerty.com. Finance-related questions should go to treasurer@brianhagerty.com.