[This site remains up as a historical curiosity. —Brian]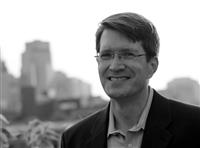 I love the law and the judicial system. But it took me some time to figure that out. Because the law is my second career (or third, depending on how you count), I have a wider range of job experience than most lawyers. My diverse experience will help me serve you as a Hennepin County District Judge.
Legal career: 2004 to 2014
Most recently, I was a judicial clerk for Associate Justice David R. Stras on the Minnesota Supreme Court. I began working for him last August and resigned on Monday, June 2, 2014, to run for Hennepin County District Judge. (Elsewhere, I explain what a judicial clerk does.) Although confidentiality rules prevent me from describing the cases that I worked on in any detail, I can say that the Supreme Court hears all kinds of cases—criminal, civil, family, juvenile, probate, workers' compensation, and tax—and the diversity of my experience reflected the diversity of the Court's docket.
Previously, I was a judicial clerk for Judge Susan N. Burke on the Hennepin County District Court. I worked for her starting in October 2012 through July of last year, until I started with Justice Stras. During my time with Judge Burke, I worked on (among many other cases) a criminal trial involving the sale of khat, a lengthy personal-injury trial against a railroad, and a personal-injury trial about a dog bite. I know what a Hennepin County District Judge does, and I'm ready to do it.
Before clerking for Judge Burke, I was a judicial clerk for roughly five years for Judge Patrick J. Schiltz on the United States District Court for the District of Minnesota. I began working for him in January 2007, and was one of his two full-time clerks until September 2009, when my term expired. (Like most clerks in federal court, I had been a "term clerk," hired for a fixed period.) A few months later, in January 2010, I returned to share a job with Judge Schiltz's career clerk, so that each of us could spend more time with our families. I worked for Judge Schiltz for another two years, through the end of 2011.
Federal courts handle a wide range of civil and criminal cases, and during my time with Judge Schiltz, I worked on cases across that range. The month that I started, I worked on a complex patent trial involving an electrical switching device. Over the next five years, I worked on (among many other cases): another complex patent trial, this one involving a machine for making stents; an employment-discrimination trial; two civil trials against the police involving alleged civil-rights violations; a criminal trial for mortgage fraud; a criminal trial involving firearms charges; and a criminal trial against police officers charged with corruption.
While I was with Judge Schiltz, I helped rewrite the local rules for the United States District Court for the District of Minnesota to make them clearer and easier to understand. As a consultant to a subcommittee of the Federal Practice Committee of the local Federal Bar Association, I redrafted each local rule, eliminating legal jargon where possible and substituting plain English. The subcommittee reviewed and commented on my drafts, and I addressed their concerns in later drafts. Once the subcommittee approved a draft rule, it was passed on to the full committee for consideration and possible revision, and then to the court for possible revision and, ultimately, approval. I am proud of the work that I did to help make the court's rules more understandable not just to lawyers, but also to ordinary people.
Also while I was with Judge Schiltz, I spent the academic year from 2009 to 2010 working part-time as an adjunct professor of legal writing at William Mitchell (now Mitchell Hamline) College of Law. As a legal-writing teacher, I emphasized the importance of writing clearly and simply and avoiding unnecessary legal jargon. As a judge, I will do the same, because the work of the courts should be understandable to everyone, not just lawyers.
I was in private practice at Faegre & Benson (now Faegre Drinker) from September 2005 through the end of 2006, when I left to work for Judge Schiltz. I worked in the firm's intellectual-property group as a patent litigator. The work was challenging, and my colleagues were terrific, but I quickly realized that I would not be satisfied except by public service. While at the firm, I had the chance to work on a pro bono case in Hennepin County District Court in which I helped a grandmother living in Powderhorn get permanent custody of her grandson, whose parents were not in the picture.
Starting a few months after my law-school graduation, I was a judicial clerk for Judge John M. Walker, Jr., on the United States Court of Appeals for the Second Circuit. I clerked for Judge Walker for a year, from September 2004 to September 2005. Because the Second Circuit hears appeals in federal cases coming out of New York (as well as Connecticut and Vermont), the docket included major commercial cases arising out of Wall Street, immigration cases coming out of New York, as well as a wide range of criminal and civil cases.
During law school, apart from serving as a research assistant and a legal-writing tutor, I was incredibly fortunate not to have to work during the school year because I received a merit-based scholarship to cover tuition, and I paid my living expenses with student loans. I did, however, work each summer. After my first year, I worked as a consultant on courtroom technology for the Wayne County Prosecutor's Office in Detroit. After my second year, I worked as a summer associate at a New York law firm (Paul, Weiss, Rifkind, Wharton & Garrison). And after graduation, before starting with Judge Walker, I was a summer associate at Faegre & Benson.
Professional education: 1999 to 2004
I got my law degree, summa cum laude,  from the University of Michigan Law School in 2004. At graduation—and each previous year—I had the highest GPA in my class. I won a variety of awards, including one for excellence in criminal law and procedure. I was also an articles editor on the Michigan Law Review. During law school, I took part in a clinic that handled appeals involving children's rights, one of my longtime passions.
Before law school, I studied public policy at the University of Minnesota's Humphrey School of Public Affairs from 1999 to 2001, and I received my master's degree in 2002 after completing my final thesis paper during my first year of law school. In that paper, I analyzed national survey data about child abuse and neglect to attempt to identify some of the reasons why people of color are overrepresented in the child-welfare system.
I was 30 when I decided to go to public-policy school and law school. I knew by then that I wanted a life of public service, so I committed myself to getting the education that would best prepare me for a public-service job suited to my talents and personality. That job is Hennepin County District Judge.
CyberX: 1995 to 2001
Back in 1995, AOL and Compuserve were still important companies, and the internet was still a novelty. When an old friend approached me about opening a cybercafe—a coffee shop featuring internet-connected computers that customers could rent by the hour—I had no idea what one was. (Cybercafes are basically extinct now, since every coffee shop offers free wi-fi, and laptops and smartphones are everywhere.) A few months later, we had opened our own cybercafe: CyberX, on the corner of Lake and Lyndale in Uptown, Minneapolis.
CyberX opened its doors in the fall of 1995 and closed them, gracefully, in the summer of 2001. The first couple of years were difficult. It was a first business for me and my partner, and he sold his share in the business a few months in, which left me running the show alone. Also, when we opened, people still weren't quite sure what the internet was for.
After a few years, though, things ran fairly smoothly. I had wonderful employees, many of whom remain friends, and CyberX had an interesting, eclectic mix of regular customers whom I got to know. The LynLake area as a whole prospered during that time, and I was glad to be a part of the neighborhood's increasing vitality.
As much as I enjoyed the challenge of running a small business, however—and as much as I valued my employees and my customers—I came to realize that running a cafe was not my calling, so I enrolled in public-policy school and applied to law school.
I treasure my experience running CyberX. It has given me a special appreciation of the challenges faced by small-business owners. It also put me in touch, day in and day out, with people from all walks of life. Our customers were mostly folks who could not afford internet access or a computer at home, and so came to us when they needed to get online. I will carry the lessons I learned from that time with me to the bench.
After college: 1989 to 1994
I got my bachelor's degree in comparative literature, magna cum laude, from Yale in 1989. I knew that I did not want to go to Wall Street like many of my classmates, and I had some idea that I wanted to work in public service, so I moved to Washington, DC, after graduation. I had done secretarial work throughout college, so I started out working secretarial jobs, landing my first permanent position at a small, long-gone law firm run by former Watergate prosecutors.
I became interested in doing social-services work, so I began to volunteer at a short-term shelter for the homeless, where I read aloud to children. I then left my secretarial job to take a full-time position as a counselor at the Sasha Bruce House, a shelter for runaway and homeless teenagers. I supervised and counseled children at the shelter, ran after-school and weekend activities for children who had left the shelter, and provided in-home counseling to children and their families.
The work was challenging and fulfilling, but as a young liberal-arts major with no professional training in social work to speak of, I was in over my head. Also, my student loans made it difficult to get by on the salary. I returned to the world of office work, this time doing public-policy work at a small consulting firm called Health Systems Research (since acquired by the Altarum Institute).
I spent three years, from 1991 to 1994, as a policy analyst at Health Systems Research. I did data analysis, research, and writing on projects related to health-care reform in various states around the country. After three years, I had advanced as far as I could with only a bachelor's degree, and I was still uncertain about my ultimate career path. I returned to Minnesota in 1994 to figure out my next move. I worked at various jobs, including temp jobs and a part-time job as an instructor at Stanley Kaplan, until deciding to start CyberX in 1995.
During college: 1985 to 1989
In college, I worked part-time during the year and more than full-time during the summers. The summer before college, I worked as a busboy at Brenda Langton's first restaurant, then as a line cook at a long-gone Mexican restaurant. The summer after my first year, I worked in a warehouse collecting and baling cardboard, then did clerical work at an insurance company. The summer after my second year, I had three jobs: clerical work at the college career center during the day, telephone fundraising most evenings, and cleaning a dentist's office on weekends. The next summer I cut back to two jobs: clerical work at a local hospital during the day, and telephone fundraising in the evening.
During the school years, worked from 12 to 20 hours a week. As a freshman and sophomore, I washed dishes. As a junior and senior, I did telephone fundraising. In short, although my parents paid what they could toward my education, I shouldered as much of the cost as I could through student loans and work.
I will bring my strong work ethic with me to the job of Hennepin County District Judge.